Legendary club Boothaus in collaboration with the virtual live events company Sansar has recreated the famous nightclub in virtual reality (VR) to deliver a series of events at the end of the year.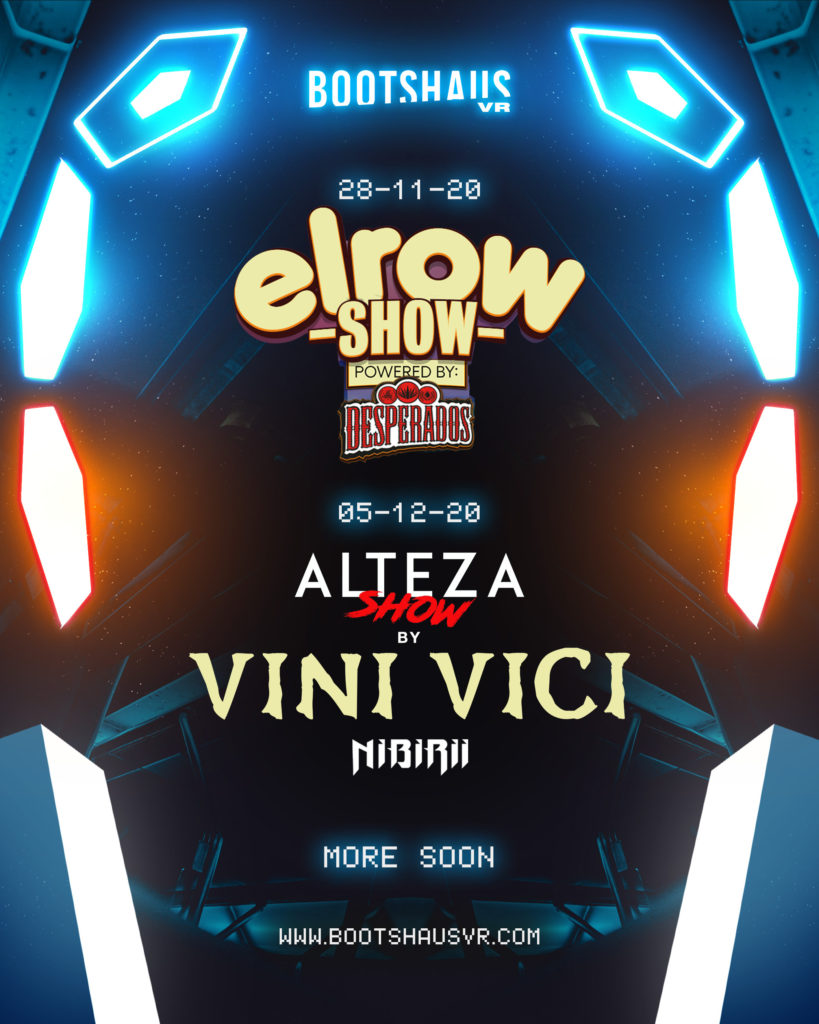 Kicking-off on November 28, long-term partners Desperados and elrow will be delivering headliner DJ Paco Osuna with elrow residents Andres Campo and Fer BR.  Abstract artist Okuda San Miguel will be transforming the virtual space into a surreal, colorful "Kaos Garden" universe making it a VR experience like no other.  Guests will be able to customize their own personal avatars, mingle with others, and enjoy their own ice-cold Desperados at the bar prior to listening to the live performances.  
On December 5, Nibirii & Alteza will team up to deliver a Psytrance experience with Vini Vici, Blastoyz, and Björn Grimm. The nightclub will be replicating the first Nibirii Party, which took place in the venue back in March 2017.
Aimed to transport revelers from the comfort of their homes directly into Boothaus, the layout of the club's main room and outdoor area have been precisely replicated. All events will be accessible via the Sansar platform with a VR headset and a Windows PC, via Youtube or Twitch, or via the Sansar app on iPhone or Android.  All events will be free.
"We're excited to share this VR experience for the international dance music community to enjoy. It's a project we've been working on for a long time and releasing it now feels more important than ever. The VR project once again sees Bootshaus at the forefront of the industry and it's an honor to team up with some of the industry's key players to deliver a stellar collection of events that can be experienced from homes globally."

Fabian Thylmann, Owner Bootshaus
"With the trifecta win of Bootshaus, elrow, and Desperados, we are thrilled to welcome the next level of show into Sansar! Together we are re-inventing what virtual live events could and should be going forward: real life, amplified."

President at Sansar, Wookey Technologies
"At Desperados, we've used our experimental DNA to adapt to our new reality as we've shifted our strategy to being digital-first, focusing on how we can bring the party into people's homes. Through this event, we're continuing our mission to unleash epic experiences and connect partygoers around the world in new and immersive ways. We're proud to launch our first VR event to bring the party world together safely, as we continue to redefine how parties can be experienced."

Diederik Vos, Global Brand Director, Desperados
"We are very excited to be taking this series to new heights with Desperados by collaborating with Sansar, legendary Bootshaus and Okuda San Miguel on this special project. Experimenting with VR technology is a big step for us so we're looking forward to taking our artists and fans on this electrifying adventure, whilst staying true to our trademark elrow style."

Juan Arnau Jr, CEO and Founder, elrow
For additional information about Boothaus's VR experience and upcoming events, please visit the following link.